The gold standard of facials. Cleanse, exfoliate, and hydrate your skin in just one treatment. Even better, tailor your HydraFacial with award-winning serums to address specific skin concerns.
Treatment Time:
30-60 minutes
HydraFacial is a medical-grade hydradermabrasion device that clears and hydrates your skin. In just three steps, it removes dead skin cells and simultaneously infuses your skin with hydrating and moisturizing serums.
​
The HydraFacial treatment starts by exfoliating the skin and removing dead skin cells via a painless suction system. Next, a combination of salicylic and glycolic acids is applied to break down dirt and oil that are clogging your pores. Then, the patented HydraPeel tip is used to vacuum out impurities and at the same time, nourish your skin.
A HydraFacial can improve your skin in many ways. From reduced lines and wrinkles to even tones and textures, the treatment can benefit any age and skin type. By switching up the serums or adding boosters, the treatment can be fully customized and tailored to your personal skincare concerns.
How does the HydraFacial work?
The machine's patented HydroPeel tips are equipped with a unique vacuum technology that creates a vortex effect to dislodge and remove impurities while simultaneously delivering hydrating solutions deep into the pores. Beyond the standard three steps, the treatment entails targeted add-ons, e.g. lymphatic drainage, LED light therapy, and add-on boosters for which HydraFacial has teamed up with skincare giants such as SkinCeuticals and ZO Skin Health. Contact us to learn more about the treatment and available add-ons.
Interested In Our HydraFacial Treatments?
Results for our HydraFacial Treatment in Scottsdale, AZ
Thank you for my very first HydraFacial! Amazing result, my skin feels so fresh and smooth.
Why Is the HydraFacial Good for My Skin?
---
The HydraFacial uses patent technology to cleanse, extract, and hydrate. Nourishing ingredients create an instant, gratifying glow and regular treatments can help restore your skin to its healthiest state.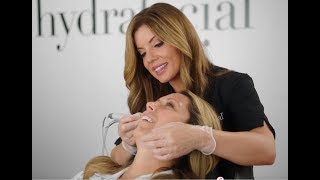 ---
How Long Does the Treatment Take and Is There Any Downtime?
---
The HydraFacial is a fast and efficient treatment with no downtime. It can take as little as 30 minutes and you can return to your normal activities right after.
---
How Long Do Results Last and How Many Treatments Are Needed to See Results?
---
Many clients report visible results and a nourished, hydrated skin after just one treatment. Hydration may last up to 7 days or sometimes even longer. For lasting results and to improve the appearance of fine lines, wrinkles, dark spots, or oily and congested skin, we recommend at least 2 treatments per month.
---
Will the HydraFacial Work for My Skin Type?
---
The HydraFacial addresses all skintypes and needs: + Fine Lines & Wrinkles + Elasticity & Firmness + Skin Texture + Dark Spots + Congested & Oily Skin + Enlarged Pores
---
---